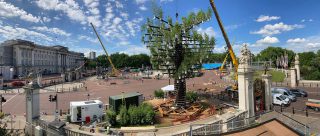 We specialize in producing bespoke architecture and artworks at scale, bringing ambitious and challenging projects to life.
how we work
We offer a comprehensive range of services from design, research and development, consultancy, building and installation. All of these stages are scalable and can be offered as a complete start to finish process or as stand alone services.
Whatever point you are at in your project we have the wide range of skills necessary to make it a reality.
01 Concept
We work closely with clients to develop and refine their ideas or produce innovative concepts in response to design challenges.

02 R&D
We stay ahead of new manufacturing processes through careful materials research. This allows us to carry out accurate and detailed costing for projects, and to keep sustainable practices at the forefront of our process.
03 Technical Design
Our experienced designers and architects work with a range of specialist software including, Rhino, Solidworks and Freeform Plus allowing us to carry out everything from haptic sculpting to precision engineering.
04 Manufacturing
We have two large, well equipped workshop spaces for joinery, fabrication, finishing and assembly.
Our highly skilled team of makers combine a wide range of technical knowledge and craft skills, allowing us to develop bespoke processes for one-off and small batch manufacturing.
05 Installation
All of our staff are fully qualified and experienced in working safely on a variety of sites, having operated as both principle and sub-contractors on sites such as Tate Modern, V&A, and London Bridge Station Development.
06 Handover
Project handed over, Aftercare initiated and Building Contract concluded