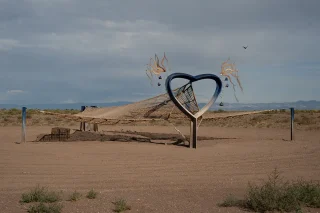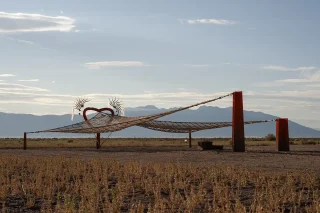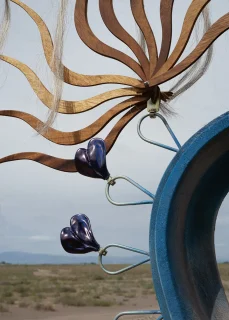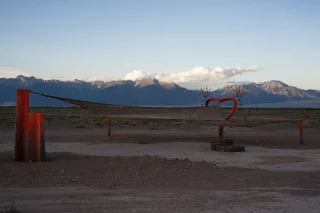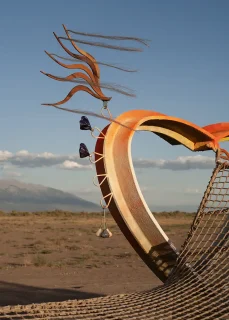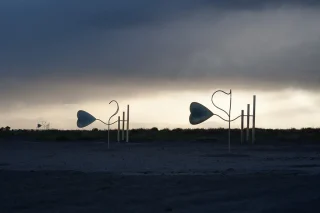 Marguerite Humeau Orisons
Orisons by Marguerite Humeau. Curated and produced by Black Cube, a Nomadic Art Museum
San Luis Valley, Colorado, USA
07 2023
Marguerite Humeau's Orisons is a subtle, 160-acre earthwork that transforms an unfarmable plot of land in Colorado's San Luis Valley into a place of reverence, honouring its expansive history, existing ecosystem, and imaginable futures. Located in Hooper, Colorado, the work consists of the land in its entirety, as well as a series of eighty-four kinetic and interactive sculptures that invoke the land's histories and vast network of interrelations. Dozens of whistling and rhythmic, plant-like sculptures inspired by the native and nomadic vegetation become activated by the wind, a legendary force in the valley, to summon the site's energies. Also a part of the work are large-scale sculptures that hover over the ground and visually reference the outstretched wings of Sandhill Cranes, iconic birds that migrate through the region, which visitors can lay upon.
Humeau is known for creating artworks that form semi-mythical ecosystems. In her practice, she poetically resuscitates extinct or forgotten worlds and weaves factual events into speculative narratives. For Orisons, Humeau turned her attention to the San Luis Valley, an alpine valley with a rich history of agriculture and home of the oldest continuous water rights in Colorado. This region, along with the Southwest United States, is amid a megadrought due to the changing climate. Developing Orisons in response to these urgencies, Humeau has worked closely with fourth generation San Luis Valley farmers, Jones Farms Organics, and has also extensively researched the site and consulted a wide array of experts—local agronomists, resource conservationists, historians, wildlife refuges, ornithologists, and indigenous communities, among others.
Altogether, Orisons, meaning prayers, deeply acknowledges this specific site in the San Luis Valley, attempting to link all of its complex bonds and invoke a sense of wholeness that traverses time and space, revealing the immensity of our world.
The installation includes seven large-scale "hammock" net sculptures, entitled Flying Rain Sandhill Crane, that are built to resemble the Sandhill Crane, an ancient and iconic species of the San Luis Valley, who migrate to the area twice a year. Each "hammock" includes a 6-foot-tall heart structure which can hold a maximum of two people. Visitors are invited to climb into these hammocks to experience the artwork, as a space for contemplation.
millimetre developed and fabricated the structural, heart shaped posts.
Partners

Photography: © Julia Andréone and Florine Bonaventure